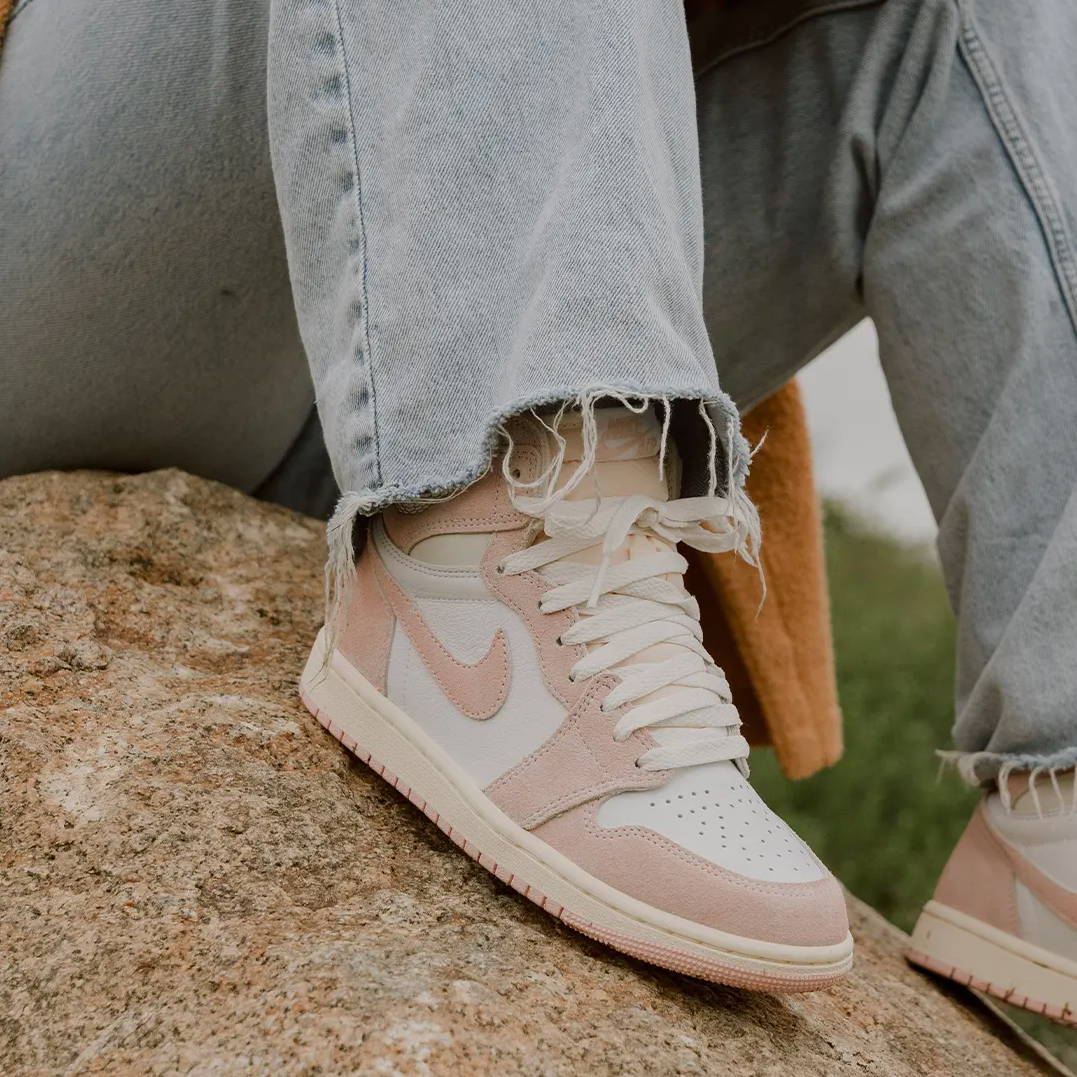 Welcome to Shoe Palace, your one-stop shop for Jordan 1 Shoes! We proudly stock the most stylish, innovative, and top-of-the-line products that resonate with fashion-forward culture. Our wide range of Air Jordan 1 retros redefines style with a nod to heritage, meeting your comfort, fashion, and performance needs. For sneaker enthusiasts and street-style lovers alike, Jordan 1 shoes are an iconic part of the fashion lexicon.
1985
The Air Jordan 1 is the one that started it all. It was Michael Jordan's first signature sneaker, and it took Nike, and the Jordan Brand, to a level of popularity that the shoe industry never saw prior, or since. The Air Jordan 1 was a rule breaker almost from the start. The first colorway of the Air Jordan 1, that Michael Air Jordan wore on the basketball court, was called The Banned version. The black and red sneakers violated the NBA's rules regarding uniforms and footwear. The story and legacy of the Jordan 1 is heavily tied to The Banned legacy, largely because of the genius of Nike and its marketing. The Air Jordan 1 is still a relevant sneaker today, despite it being released all the way back in 1985. The timeless design has allowed it to adapt and change with the always altering world of fashion. The most iconic colorway is probably the Black & Red, or BRED, colorway. The Air Jordan 1 is currently available in Low, Mid and High versions. The Air Jordan 1 is available for Men, Women, Infants, Toddlers, Girls and Boys. The Air Jordan 1 is quite possibly the most popular sneaker available at Shoe Palace and the Air Jordan legacy is a big part of our history. You can find Air Jordan products at Shoe Palace stores and on our website.
The Business Of The 1
Michael Jordan signed an endorsement contract with Nike for $2.5 million his rookie year. That looks like clearance aisle pricing today, but at the time many felt MJ, an unproven rookie, didn't deserve a contract that large.
Banned
When sneakerheads think of the Jordan 1 and colorways, they usually first think of the Jordan 1 "Banned." The Banned, also known as the "BRED," featured a black, red, and white colorway. The shoe received that Banned nickname because every time Jordan laced them up, he was fined $5,000 per game. Today, the NBA allows players to wear almost any shoe they want, no matter the colors or design. In 1985, the league was far more conservative when it came to shoes and the Air Jordan 1 Banned violated league uniform rules. There has been talk that the Banned legend is more fiction than reality. With many speculating that it was all a marketing ploy by the geniuses at Nike. Regardless of the validity of the story, the Banned saga helped to make the Air Jordan 1 a legend.
Jordan Retro 1 Styles
Our collection of Jordan Retro 1 Styles is unparalleled. Known for their timeless appeal and groundbreaking design, Air Jordan 1 retros are more than just shoes; they are a style symbol.
They hark back to the golden era of basketball, embodying the spirit of the legendary Michael Jordan. Each pair from our selection offers unique color combinations and features, from high tops with bold statements to low cuts with a more refined silhouette. Discover your style and take a journey through our expansive range. Each pair guarantees the quality and style that this iconic brand promises.
Jordan Shoes for Work or Play
Whether you are going to the office to the playground, Jordan 1 shoes seamlessly bridge the gap between work and play. Flaunt your style in a corporate setting with muted colorways or make a splash at your weekend meetups with vibrant, eclectic styles. Our selection of Jordan 1 shoes for men, women, and kids provide next-level versatility, so you can always look your best - no matter what you have planned.
Designed with high-grade materials and exceptional craftsmanship, these shoes offer incredible comfort and durability, irrespective of your lifestyle demands. The Air Jordan 1 retros adapt perfectly to every setting, ensuring that you never have to compromise on style or comfort.
Check For Sales on Jordan 1 Shoes
At Shoe Palace, we believe that everyone deserves to rock their favorite Jordan 1 shoes without breaking the bank. That is why we regularly offer sales on our vast collection, including Jordan 1 sales for men, women, and kids. Be sure to check out our sales section frequently for incredible deals on your favorite styles of retro Air Jordan 1s. Stay ahead of the fashion curve without straining your wallet!
Shoe Palace Has the Best Selection of Jordan 1 Shoes
Choosing Shoe Palace means you are getting access to the best selection of Jordan 1 shoes. We work relentlessly to ensure that our collection reflects the freshest trends and the most sought-after styles. For us, it is not just about selling shoes; it is about providing you with a selection that inspires self-expression, encapsulates your style, and instills confidence in every step.
Our stock is continuously updated to include the latest releases and limited editions. Whether you are a dedicated sneakerhead or someone who appreciates a good pair of shoes, you will find your perfect match at Shoe Palace. Be it the Retro High OGs, the Low Flyknits, or any other variant of the iconic Jordan 1 shoes, we have the perfect shoe for you.
At Shoe Palace, we celebrate the fusion of fashion and function, offering an impressive array of Jordan 1 shoes to help you stand out in the crowd. Explore our collection, get inspired, and step into your style today!