Colin Kaepernick introduced himself to the public consciousness as a quarterback for the San Francisco 49ers. But his current life's work as an activist has defined his legacy. Colin Kaepernick is one of the most interesting, and inspirational, figures in our modern culture.
Colin Rand Kaepernick
Colin Rand Kaepernick was born on November 3, 1987. He spent most of his childhood in Turlock, California. Kaepernick attended Pitman High School. He excelled in not just football, but also basketball and baseball. Kaepernick was a multisport star in high school. He would receive a scholarship from the University of Nevada to play football. Passing was not the only skill he excelled at as a quarterback, he was also a great runner with the ball. The multi-talented athlete could carve up a defense in a variety of ways.
The San Francisco 49ers selected Colin Kaepernick in the second round of the 2011 NFL Draft. In 2012, he would be named the starting quarterback for the 49ers. Kaepernick would lead the 49ers to the 2013 Super Bowl. In 2014, he signed a long term contract with San Francisco. His future for the 49ers looked to be extremely bright.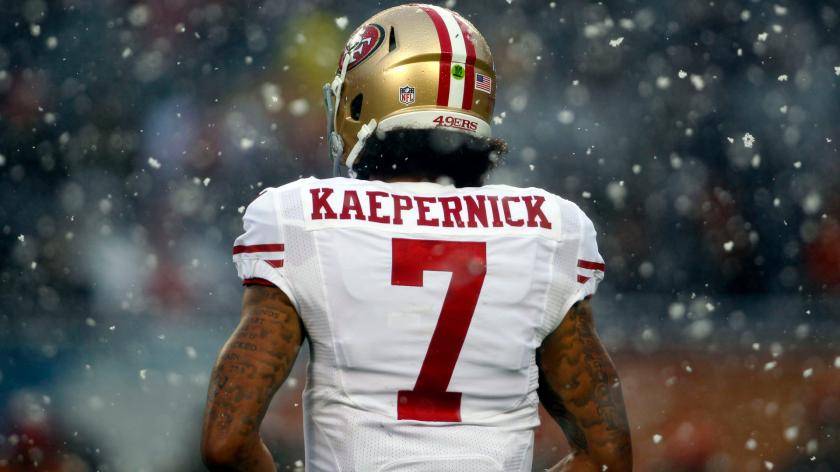 2016
During the 2016 NFL season, Kaepernick started kneeling during the national anthem. He shared with reporters that his kneeling was in response to the challenges people of color were facing in the United States. Challenges like systemic oppression, and police brutality specifically. Supporters and detractors were making their opinions known regarding Kaepernick. Everyone had an opinion on the matter. Other athletes started to show support for Kaepernick by kneeling and speaking out against injustice. The athlete started a national conversation about race, privilege, and power in the United States.
In 2017, Colin Kaepernick became a free agent. No teams would offer the young quarterback a job. Many believed, including Kaepernick, that he was blacklisted from the league because of his stance on injustice. Powerful political figures were demanding that the NFL punish Kaepernick for disrespecting the country. A larger number of the NFL's fanbase also had issues with Kaepernick and his peaceful protest. While he had many supporters, the detractors were putting a lot of pressure on the league to discipline Kaepernick.
After The NFL
Today, Colin Kaepernick is a civil rights leader. Since his departure from the NFL, he has founded and helped to fund three organizations - Know Your Rights Camp, Ra Vision Media, and Kaepernick Publishing. All three organizations focus on storytelling, systems change, and political education. In 2021, Kaepernick released Colin in Black & White, a Netflix series that focused on his high school years. He would become a best selling author in 2022 for his children's picture book, I Color Myself Different.
Colin Today
Colin Kaepernick has worked out for NFL teams and has been openly vocal about his desire to return to the league. As of 2022, Kaepernick has not been allowed to continue his career in the NFL. The impact he has made, away from the sport of football, has been more important than a Super Bowl appearance. His courage, and conviction, has made him a hero to millions.
- Adam C. Better