Hot Wheels is one of the greatest toy lines of all time. It ranks with Barbie, GI Joe, and Star Wars as icons of the toy aisle. How did Hot Wheels become a legend with children and adults alike?
Reinventing The Toy Car
Elliot Handler is one of the superstars in the world of toys. He is the co-founder of Mattel Inc. Handler helped to develop the legendary toy line, Barbie. The tremendous success he had with dolls led him to turn his attention to die-cast cars. Barbie was a huge hit with girls, he now wanted to make a splash with boys.
Handler made sure that the die-cast toy line he was creating was special. He did not just want to make ordinary toy cars, he wanted to do something epic. Mattel would reach out to designers from GM, a leading automaker, to help make the definitive toy car.
The toy cars would feature fast-spinning plastic wheels. This led to Mattel calling the line, "Hot Wheels." Hot Wheels would officially arrive on shelves in 1968. Thousands and thousands of unique toy car models have been produced in Hot Wheels nearly 60 year existence. Billions of Hot Wheels cars have been sold since 1968.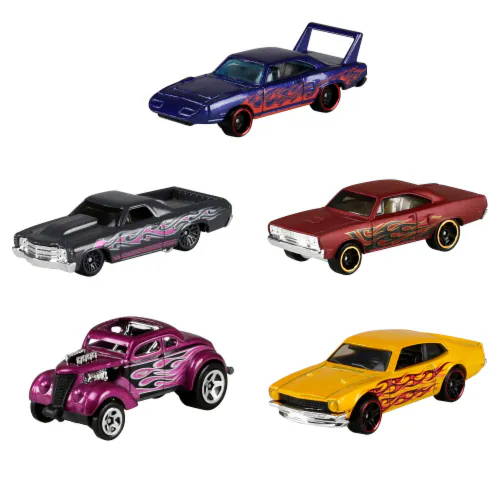 The Impact Of Hot Wheels
Hot Wheels is easily one of the most successful toy lines of all time. The toy cars have inspired a lot of kids to pursue a career and life dedicated to automotives. Hot Wheels has been so successful that it has been able to survive the transition current kids are making from physical toys to digital games and online distractions. Hot Wheels are still widely available in every department store and have a giant toy aisle presence.
Hot Wheels x Nike PG 6
Sneaker fans know how important collabs currently are. Hot Wheels is teaming up with Nike for a special Nike PG 6. Paul George is known to have a love and passion for automobiles. The Nike x Hot Wheels PG 6 pays tribute to the iconic toy brand and George's love of fast cars.
The Hot Wheels x Nike PG 6 releases on November 19 at Shoe Palace select locations and on shoepalace.com.
- Adam C. Better