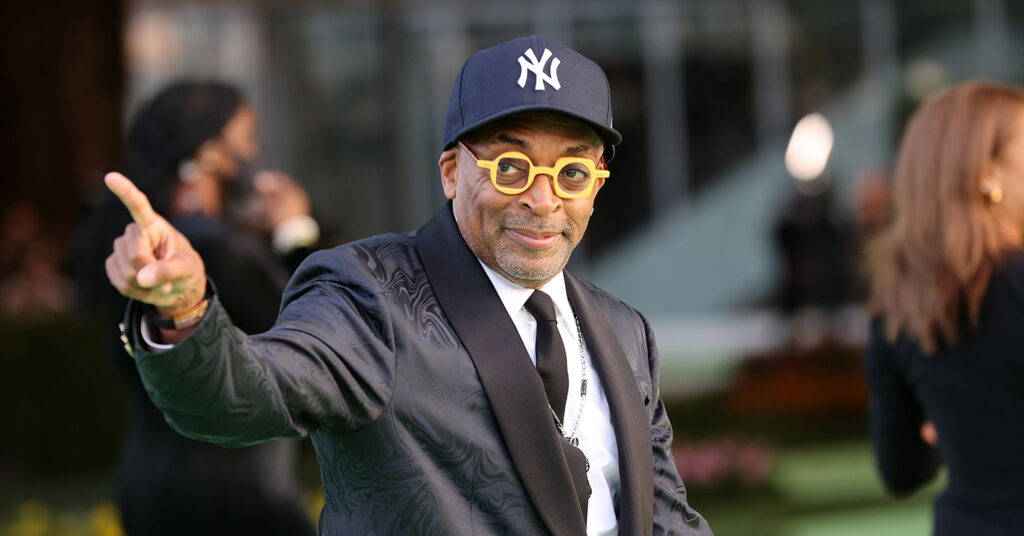 Director Spike Lee is an influential and iconic filmmaker. The icon is widely known as a huge sports fan—especially of his cherished New York Knicks. He is a mainstay at Madison Square Garden with his courtside seats. His passion and proximity to the court has allowed for more than a few trash-talking confrontations with players—including a legendary one with Reggie Miller during the 1994 playoffs.
Today is Spike Lee's birthday. To honor the legend on his big day, let us take a brief look at his life and career.
Shelton Jackson Lee
Spike Lee was born Shelton Jackson Lee on March 20, 1957. He was born in Georgia, but soon moved to Brooklyn, New York. Lee was drawn to moviemaking at a very young age. He would graduate from New York University Film School in 1982.
The Shoes
Is it the shoes? It's gotta be the shoes!
That phrase, delivered by Spike Lee's alter ego Mars Blackmon, helped to create a phenomenon. The Air Jordan sneaker's success is of course primarily due to the brilliance of Michael Jordan and Nike's product. It would be unfair however to overlook the contributions of Spike Lee to the brand's enduring legacy. The Air Jordan commercials that featured Lee's Mars Blackmon character and Michael Jordan did not take themselves too seriously. They were humorous but at the same time created with respect for the product. The humor displayed in the spots featuring both Lee and Jordan allowed the public to relate to MJ. They showed a different side of the competitor, which was a departure from his aggressive demeanor on the court. The Mars Blackmon character first appeared in 1986's She's Gotta Have It. The film was Lee's breakout project. He wrote and directed, and appeared in, the movie as Mars Blackmon. Blackmon had a love for Michael Jordan and Air Jordan's in the film. The charisma of Spike Lee and the devotion he had to Michael Jordan made him an easy choice for Nike to partner with for a marketing campaign. The first Jordan commercial featuring Blackmon debuted in 1988.
Filmography
The success of She's Gotta Have It not only brought Lee to Nike, it also helped to launch his career as a director. His 1989 film, Do The Right Thing, became an instant classic. It took on controversial topics like race relations and police brutality with no filters. Do The Right Thing would go on to be nominated for an Academy Award for Best Original Screenplay. Lee would go on to craft many other memorable and important films. Projects like, Malcolm X, Mo' Better Blues, Jungle Fever, and many, many more.
Legacy
Spike Lee is one of the most important filmmakers of the past 50 years. His contributions to sneaker history and the impact of Nike and Michael Jordan can't be dismissed. Spike Lee is one of the most fascinating figures in popular culture. Happy Birthday, Spike Lee!
- Adam C. Better