The best Halloween shoe for your Spooky Season Fit, isn't actually a Halloween shoe. The Air Jordan 1 "Shattered Backboard 3.0" is not only a great sneaker, its also a great sneaker for the scariest of seasons.
Air Jordan 1 Shattered Backboard 3.0
You may not instantly think of the Air Jordan 1 Shattered Backboard 3.0 when you think of Halloween, but the colors perfectly match the holiday. The colorway was inspired by the orange and black jersey that Michael Jordan wore when he shattered a backboard in an Italian exhibition game in 1986. This 3.0 version of the Shattered Backboard was a bit different than the models in the series that came before it. It has a black and orange crinkled patent leather upper that represents the shattered glass. A yellowed and aged vanilla midsole and outsole is also a part of the design. The Air Jordan 1 Shattered Backboard 3.0 originally launched in 2019.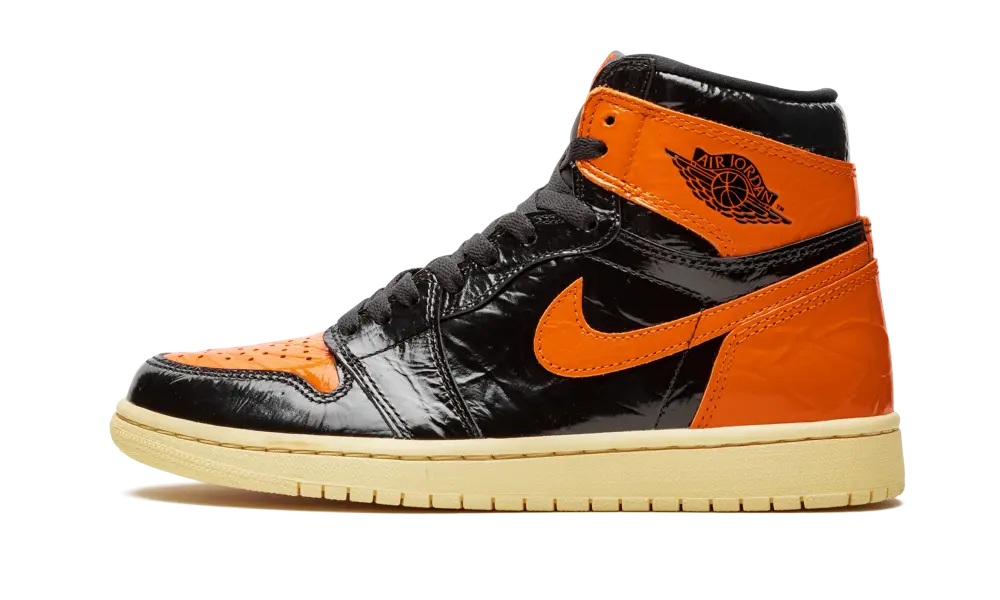 Halloween 2023
If you are looking for an unconventional, but stylish sneaker for Halloween, the Air Jordan 1 Shattered Backboard 3.0 is a great choice…but it won't be cheap!!! It will be Scary how expensive it is on the secondary market.
The Business Of The 1
Michael Jordan signed an endorsement contract with Nike for $2.5 million his rookie year. That looks like clearance aisle pricing today, but at the time many felt MJ, an unproven rookie, didn't deserve a contract that large.
When sneakerheads think of the Jordan 1 and colorways, they usually first think of the Jordan 1 "Banned." The Banned, also known as the "BRED," featured a black, red, and white colorway. The shoe received that Banned nickname because every time Jordan laced them up, he was fined $5,000 per game.
Today, the NBA allows players to wear almost any shoe they want, no matter the colors or design. In 1985, the league was far more conservative when it came to shoes and the Air Jordan 1 Banned violated league uniform rules. There has been talk that the Banned legend is more fiction than reality. With many speculating that it was all a marketing ploy by the geniuses at Nike. Regardless of the validity of the story, the Banned saga helped to make the Air Jordan 1 a legend.
The 1 Legacy
Every great story must have an opening chapter. For the legend of Jordan Brand, its first chapter is the Air Jordan 1. The simplicity of the shoe in many ways makes it even more poetic and fitting as a first chapter. In 1985, nobody could have dreamed Michael Jordan would become the greatest basketball player of all time. They also never could have dreamed how influential and successful the Air Jordan sneaker franchise would become either. The Air Jordan 1 is literally the 1 that started it all.
- Adam C. Better