When Jurassic Park was released on June 11, 1993, it changed movies forever. The special effects used to bring the dinosaurs to life were mind blowing for audiences. Jurassic Park transformed how films were made in terms of computer generated effects. While the effects were awe inspiring, the film itself, with its characters, story, and adventure, is what has made it an enduring classic for three decades now.
Thrill Ride
Jurassic Park is a thrill ride from start to finish. Every time a dinosaur is on screen you feel the perfect mix of excitement and chills. Every character in Jurassic Park is memorable and is given at least one scene to shine. The film is well paced and balances the story, characters, and spectacle perfectly. This is largely because of the direction, performances, and the script.
The Park Is Open
Jurassic Park opened 30 Years ago today. The adventure film was based on the Michael Crichton bestselling novel. Jurassic Park was directed by the GOAT, Steven Spielberg.
John Hammond, played by Richard Attenborough, has found a way to bring dinosaurs back to life. He wants to open a theme park that will allow families to enjoy the return of the extinct creatures. A team of experts is invited to "Jurassic Park" to investigate how safe the idea is. When things go terribly wrong—the group discovers it may have been best to leave dinosaurs in the past.
The film has grossed over 1 Billion dollars at the worldwide box office. It inspired five sequels thus far, including the Jurassic World franchise. Jurassic Park starred Sam Neill, Laura Dern, and Jeff Goldblum.
Jurassic Shoes
Since Jurassic Park was released in 1993, all kinds of products and merchandise have been made. There is even a thrill ride dedicated to the Jurassic franchise at Universal theme parks. In 2021, sneakerheads finally got what they wanted, a Jurassic Park line of sneakers. The collection was made by Reebok and showcased iconography and art from the Jurassic Park film series. The collection used some of the most iconic silhouettes from Reebok.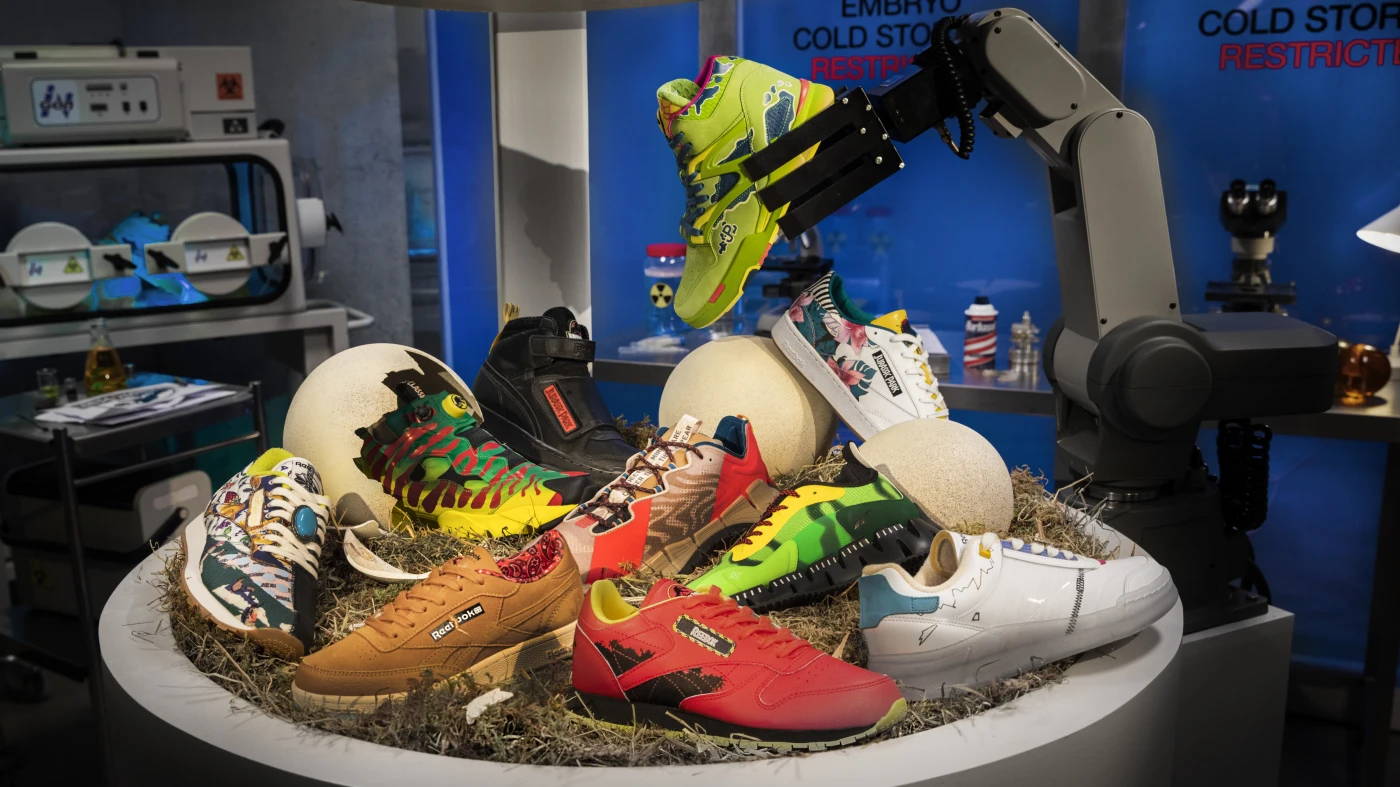 Greatness Finds A Way
Jurassic Park is one of the greatest cinematic triumphs of all time. The CGI effects are groundbreaking, but the film never loses sight of the importance of the story and characters. Jurassic Park is one of the most iconic films ever made and easily one of Steven Spielberg's greatest achievements.
Shoe Palace
Shoe Palace is turning 30 years old this year, just like Jurassic Park. To celebrate, a collaboration between Shoe Palace and Jurassic Park is coming soon! Stay tuned for more…
- Adam C. Better