Charles Barkley has one of the more underrated sneaker lines. His series with Nike was one of the best of the 1990s. Read on to learn about the Nike Air Max CB34 II.
Air Max CB34 II
The Nike Air Max CB34 II was released in 1995. It had an upper featuring grain leather, elastic straps and huge CB34 logos on the side, tongue, and outsole of the shoe. The colorways were designed to match Barkley's team at the time, the Phoenix Suns. The Nike Air Max CB34 II was made strong and solid, to match the power game of "Sir" Charles Barkley. The CB34 II was very much a product of the 1990s.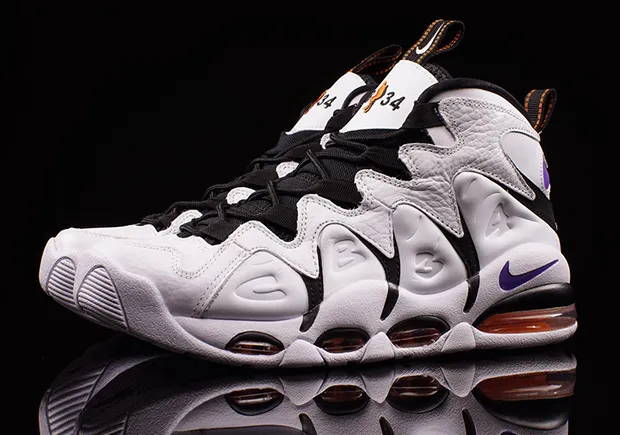 NIKE, Inc.
In 1971, Nike would become the new name of the company. The winged Greek goddess of victory inspired the name. The iconic Nike Swoosh was also created in 1971. A graphic design student created the world famous logo. The logo was crafted to convey speed and the goddess Nike was its inspiration. The first shoes to feature the Nike Swoosh were the Nike Cleat and the Nike Waffle Racer at the U.S. Track and Field Olympic Trials in Eugene, Oregon.
The first Nike factory location opened in 1984 in Portland, Oregon. This led to the first Niketown opening in 1990, which was also located in Portland. Niketown was able to broaden the storytelling ability of the brand. Consumers could interact with the products in the store, learn more about them, and the athletes that endorsed them. More Niketown locations would quickly follow. Locations that would be placed all over the world. This would strengthen Nike's status as a global retailer.
In 1996, Nike launched nike.com. The site focused on storytelling initially. It gave site visitors the chance to learn more about Nike's large list of athletes. Storytelling has always been an important part of Nike's brand. The storytelling has grown more mythical and epic as time passes on for Nike.
The Nike website got bigger and more unique in 1998 when NikeiD launched. The ability for the consumer to customize their own Nikes was trailblazing at the time. In 1999, the site fully transitioned from an editorial hub to an e-commerce platform.
Charles Barkley
You can make the argument that Charles Barkley might even be more popular today, thanks to his work as a television analyst. His natural charisma and charm make him perfect for TV. Charles is known to have no filter, and that makes him fun to watch. He is candid in his criticism of players, coaches, and the sports world. Charles Barkley is a personality that has transcended basketball and sports.
- Adam C. Better