The Air Jordan 37 debuted in 2022. It did a great job of honoring the legacy of the Air Jordan Brand. Learn more about the 37 below.
The 37
Breathability and support were the major goals of the Air Jordan 37. The balance of breathability and support allowed the foot to feel secure, but not restricted. It has a carbon fiber shank and double stacked Zoom. The Air Jordan 37 was the perfect multidirectional shoe. Young stars like Jayson Tatum, Rui Hachimura and Bradley Beal wore and endorsed the 37. The Air Jordan 37 celebrated almost four decades for the line with a lot of tributes to the past. Colorways and exclusive versions of the 37 helped to tell the story of Air Jordan's past.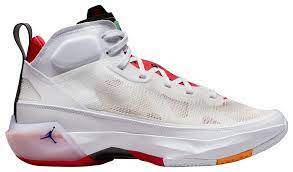 Jordan Brand
For its first 13 years of existence Nike's Air Jordan Brand was completely reliant on its namesake to keep it alive and flourishing. Michael Jordan's magnificent basketball career established the line of shoes and clothing as a sales juggernaut. The designs of the shoes were always top shelf—but would anyone care about those designs if "His Airness" didn't dominate the NBA in them? Nike and Jordan Brand understood, and probably feared, the idea that one day MJ would have to retire permanently from the game of basketball. Despite Michael returning twice from retirement, he did eventually step away from the game for good. What would become of Jordan Brand? Would it also retire with the man who represented it so amazingly well? Could the shoes and line of athletic clothing survive without Michael Jordan being an active member of the NBA?
Nike was of course responsible for giving birth to the Air Jordan series, but from the start Nike tried to let its creation have its own identity. The Air Jordan II, for example, was revolutionary at the time for not including the famous Nike Swoosh anywhere on the sneaker. While that design independence made the Air Jordan line stand out, it also made it difficult to market without the help of its rock star endorser.
Shoe Palace
You can find Jordan Brand products at Shoe Palace retail locations and on shoepalace.com.
- Adam C. Better