On April 16, 2003, Michael Jordan played his final game in the NBA. The shoes on his feet when he took his last bow was the Air Jordan XVIII. Learn more about the Air Jordan 18 by reading below.
XVIII
Michael Jordan's career features many retirements and comebacks. But, as of 2022, his 2003 retirement seems like it is going to stick. It is hard to believe, but Jordan's final retirement took place when he was a member of the Washington Wizards.
The 18 looked to things that have inspired Air Jordan models in the past. Italian design and sports cars were inspirations for the build of the 18. The shoe used carbon fiber to a greater extent than most Air Jordan models. The 18 contained air vents, carbon comfort plate and a quick lace system. The model had suede leather uppers and a zoom air sole. The XVIII was a tremendously well-crafted and elegant installment of the Air Jordan line. It was a fitting model for Jordan's final season in the NBA.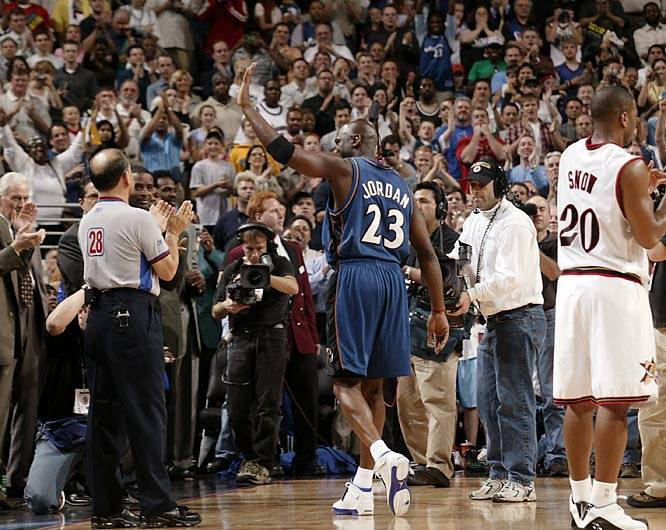 When the XVIII originally released in 2003 it retailed for $175. The "Black Royal" pair came with a towel, brush, and a driver's manual. The XVIII was designed by Tate Kuerbris. Kuerbris was a long time contributor to Jordan Brand and Nike before taking the reigns as lead designer on the XVIII. Like so many Jordan models before it, the XVIII was inspired by speed. Race cars and race car drivers helped to shape the design of the 18. Another hallmark of the Jordan line is looking to dress shoes for inspiration. On theme with the formal footwear inspiration, is that the XVIII came packaged with a hand towel and brush for cleaning. The XVIII came inside a slide out box with a die cut logo on the top.
XVIII
There are many Air Jordan sneakers that are tied to iconic Michael Jordan moments and events. Michael Jordan's time in Washington is not remembered all that fondly, but it is still an important piece of MJ's legacy. The XVIII has a special place in the Michael Jordan story by being a part of his final game in the NBA.
- Adam C. Better