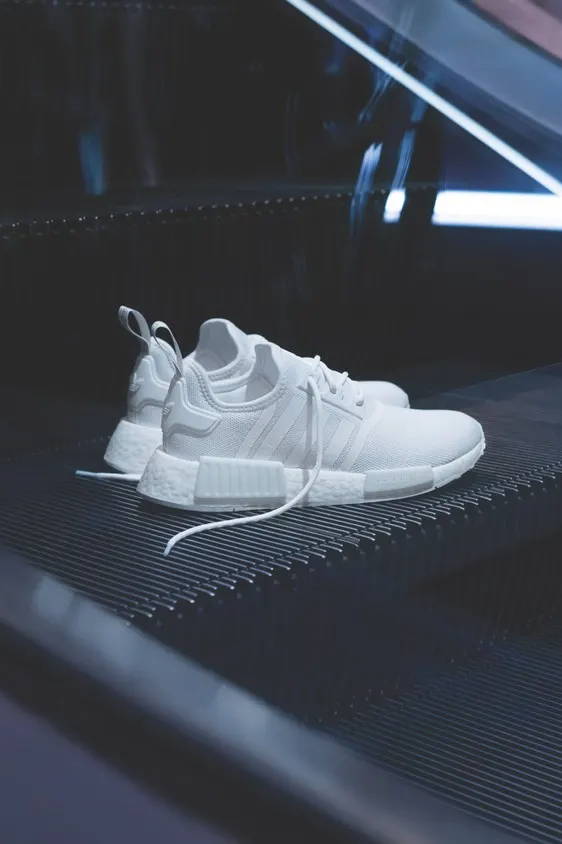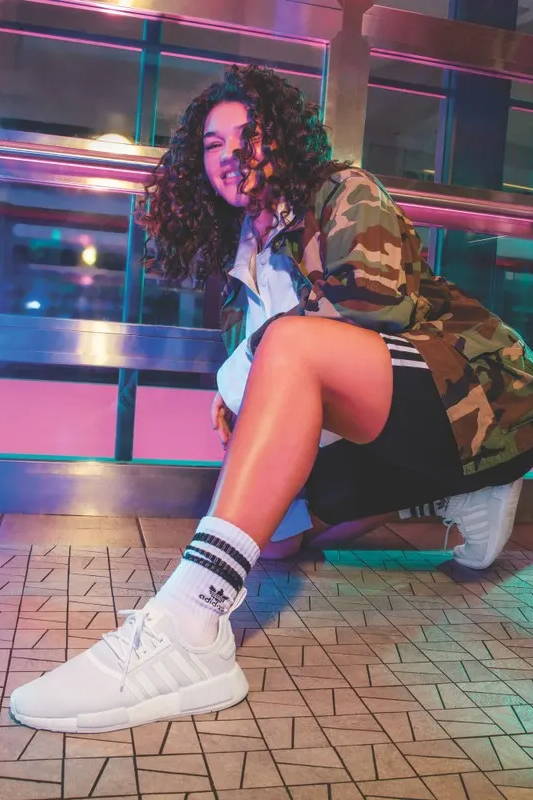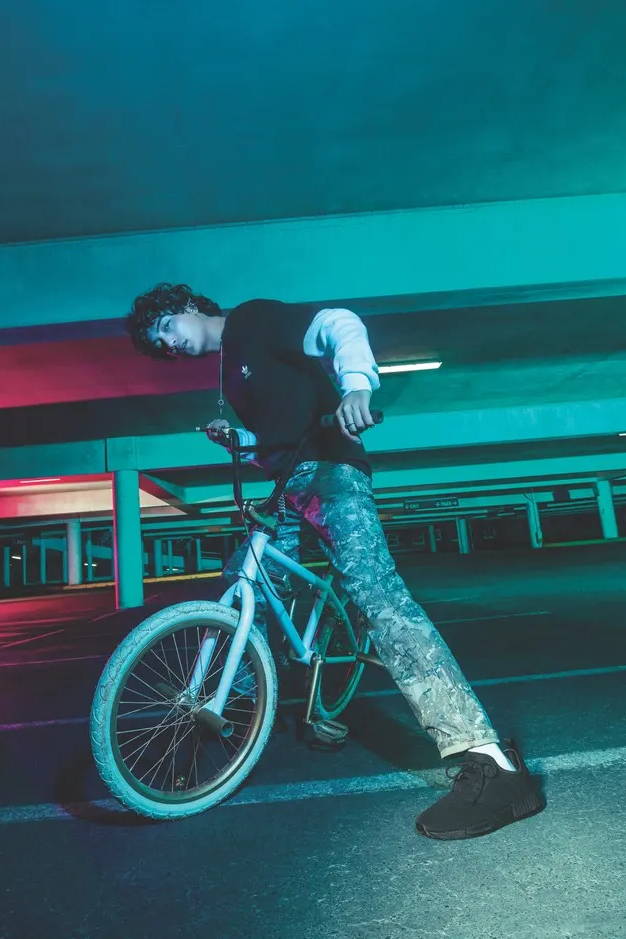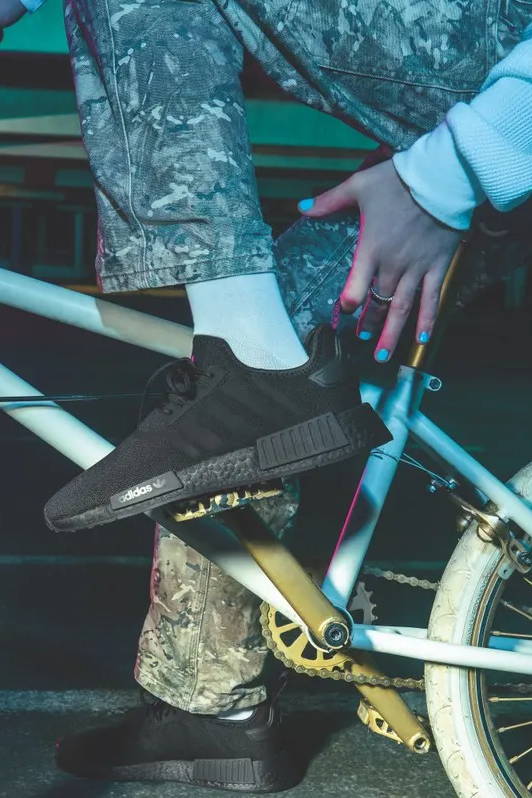 About adidas NMD
The adidas NMD made its debut in 2015. Since its debut, the NMD took on a variety of distinctive colorways and design variations. The adidas NMD is great for runners and casual wearers. It was considered by many to be the perfect hybrid shoe. It worked for running and leisure equally as well. The NMD has had dozens and dozens of popular colorways and styles released. The design elements of the NMD include flexible mesh and a full-length Boost midsole. The adidas Originals NMD R1 is an updated version of the adidas NMD and it has also made in impact on the culture. The NMD was given the nickname of the NOMAD. It received that moniker for being a casual piece of footwear that was designed for wearers to roam the urban landscape. The NMD has been a huge success for both men and women. It is the rare shoe that has connected with both a male and female customer base. adidas currently has the NMD model as part of its heritage Originals line. The NMD model has been a popular fixture at Shoe Palace since its birth in 2015. Shoe Palace has partnered with adidas on exclusive NMD models over the years.
adidas Shoes for Men, Women, & Kids
Step into a world of style, comfort, and versatility with adidas, a brand that truly offers shoes for everyone. At Shoe Palace, our extensive selection of adidas footwear caters to all ages, from the dapper man seeking a classic look, the stylish woman looking for that perfect fit, to the energetic kid needing a shoe that can keep up with their endless play.
But that's just the beginning because the beauty of adidas lies in its incredible variety. We're talking about a range of models, from retro-inspired kicks that echo the brand's long-standing legacy to innovative designs that are at the cutting edge of modern footwear technology. Plus, let's not forget about the plethora of colors and patterns available — whether you're a fan of minimalist designs or prefer bold, eye-catching styles, adidas has something for you.
Even better, adidas shoes are also celebrated for their exceptional comfort and durability. They are crafted with premium materials and engineered to provide optimal support, ensuring that you can wear them day in and day-out without worry.
In all shapes, sizes, and designs, adidas shoes offer something for every individual's unique style and needs. The brand's commitment to versatility, combined with Shoe Palace's dedication to bringing you the best selections, ensures a match for every foot and a style for every personality. Step up your shoe game with adidas and Shoe Palace — where style meets comfort, and variety knows no bounds.
Choose the adidas shoes that Suit Your Lifestyle
Your adidas shoes aren't merely about style; they're about seamlessly merging fashion with functionality to suit your every lifestyle need.
If you're a fitness enthusiast, adidas running shoes like Ultraboost or Alphabounce deliver superior comfort and support to propel you forward. For the everyday street style connoisseur, the iconic Stan Smiths or Gazelles offer timeless aesthetics, perfect for a casual day out. And for sports enthusiasts, the adidas Performance range is purpose-built to enhance your abilities, whether on the soccer field, basketball court, or tennis court.
No matter your lifestyle, adidas has a shoe designed specifically with you in mind.
Find adidas Shoes on Sale and Get Great Style on a Budget
Everyone loves a good bargain, and at Shoe Palace, we believe that budget should never compromise style. That's why we regularly offer fantastic deals on a wide selection of adidas shoes. From discounted classics to recent releases, you can score amazing adidas styles without breaking the bank.
Our sale items are continually updated, ensuring there's always a chance for you to bag your dream adidas pair at a fraction of the cost. So, don't wait; dive into our sale section and boost your footwear collection while enjoying great savings.
Shop Shoe Palace for the Best adidas Shoes for the Whole Family
At Shoe Palace, our passion lies in connecting our customers with shoes that they love, shoes that express their personality, shoes that provide comfort, and, most importantly, shoes that fit into their lives. We're proud to host an extensive range of adidas shoes that tick all these boxes and more.
From the latest releases to timeless classics, our collection is as diverse as the individuals we cater to. So whether you're shopping for yourself, treating a loved one, or kitting out the kids, trust Shoe Palace to deliver the very best adidas shoes for the whole family.
Shop adidas at Shoe Palace today!