Apple is synonymous with class, sophistication and cutting edge tech. Steve Jobs wanted his company to create stylish tech pieces that excited the public. The late creator's vision is alive and well. There are millions of people who could not imagine living a day without their iPhone, iPad, or MacBook. In the early days of the successful company, Apple was dabbling in another form of culture, fashion.
The Role of the Influencer
There was a time when the only people who could endorse a sneaker were athletes. Basketball players, baseball stars, track and field athletes were the ones companies like Nike and adidas looked to for sneaker endorsements. In recent years, that has changed. Musicians like Travis Scott and movie stars like Jenna Ortega are now looked at as sneaker influencers. The art of the collaboration has also infiltrated sneaker culture. Pop culture staples like Coca Cola and The Simpsons have been represented in shoe collabs.
Apple Inc., as always, was ahead of the curve when they crafted their own shoes in 1986.
More Than Tech
In the late 1980s Apple was keen on offering its customers more than just computers. The company looked into making tees, polo shirts, accessories and home furnishings. Apple is now part of the world's everyday life, but they were looking to do more than just be the makers of the devices we cannot live without. Apple wanted to be a vital piece of our wardrobes as well.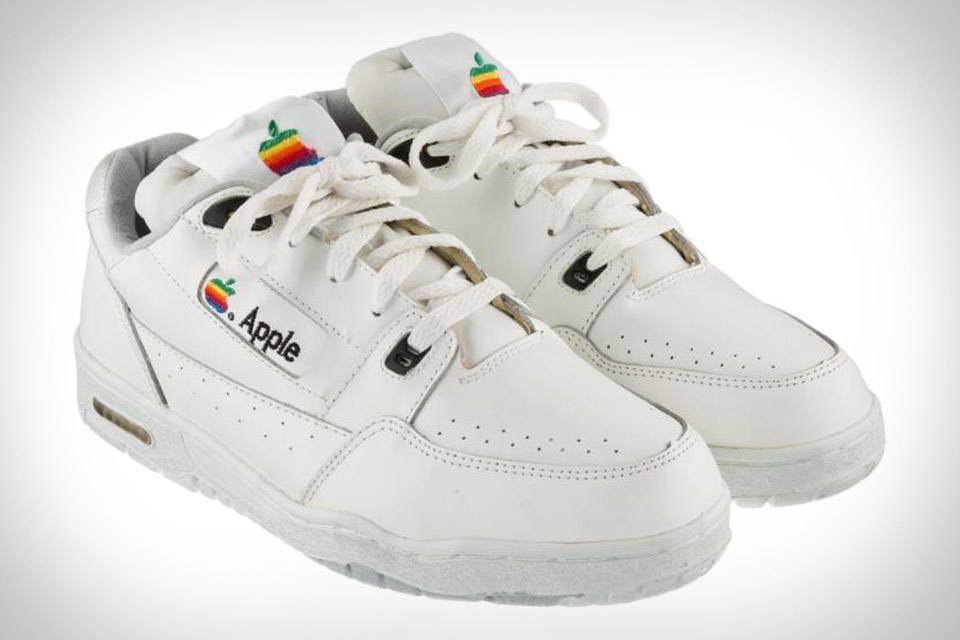 Apple Shoes
Today, collectors go crazy for the apparel and lifestyle pieces that were made exclusively for Apple employees. Apple items can fetch big numbers on the secondary market. The shoes, designed originally just for Apple Employees, have sold for thousands, in the rare instances when they have showed up for sale.
Just how many pairs of the Apple shoes were made? It is difficult to identify an exact number. A few pairs have showed up for auction over the years. Rumors imply that the shoes never made it beyond the prototype phase. Other information suggests that a small number were given out to Apple employees. There also were pairs handed out at a Sales Conference in the 1990s based on reports.
The pairs that have shown up online feature a white upper. The classic rainbow Apple logo also appears on the upper of the silhouette. The Apple logo is also present on the tongue. These prototypes are said to have been made by adidas. There is a slightly different pair you can find online that were designed by Reebok. The lack of concrete information on the Apple shoes makes it hard to identify what is true and what is false. The lack of information has added to the shoes lure and the mystery surrounding them makes them more desirable.
Steve Jobs
Steve Jobs is a fashion icon. His turtleneck and New Balance sneakers are as memorable as Michael Jordan's Bulls uniform. Jobs never seriously pursued making Apple shoes. But with his cultural relevancy, and unique style, you could easily see him making a splash in fashion if he was alive today.
- Adam C. Better