The Nike Air Pippen 4 would be released in 2001. Scottie Pippen would now be a member of the Portland Trailblazers. Learn more about the Nike Air Pippen 4 below.
The Four
The Nike Air Pippen 4 was a lighter shoe than the PIP 3. It was designed for Pippen's fast and versatile game. Bulk was an issue with previous Pippen shoes, and the 4 was the lightest in the series thus far. The design is a controversial one, with Pippen sneaker fans either loving it or hating it. It is one of the more unique basketball shoes from Nike. There is Zoom Air cushioning in the forefront, and Max Air in the heel.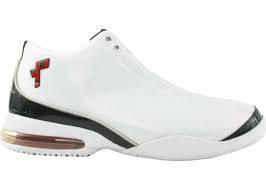 Walk On
Scottie Pippen received very little hype and interest during his amateur years as a basketball player. He was a walk on at the University of Central Arkansas. Pippen quickly became one of the best players in college basketball. Pippen was born in Arkansas, and he was one of 12 children. Being from a small town, and coming from a large family, it was easy for Pippen to be overlooked. But eventually Pippen's talent was too impressive to continue to overlook. He was selected as the fifth pick in the 1987 draft by the Chicago Bulls.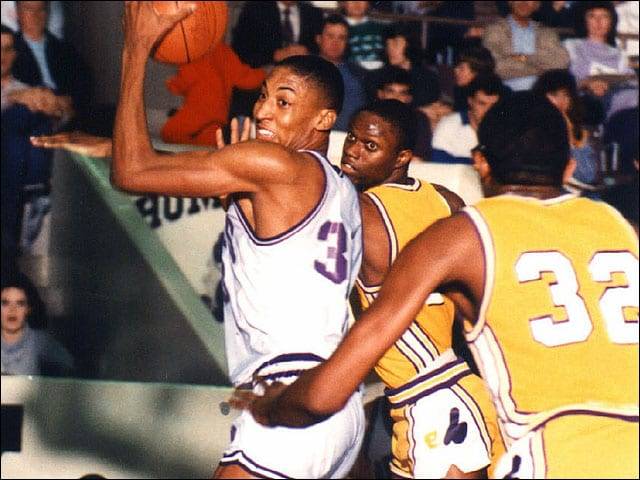 Dynamic Duo
Michael Jordan was the face of the NBA when Pippen joined him in Chicago in 1987. Jordan was a one man wrecking crew, but the talent around him was lacking. MJ did not trust his teammates, and it hurt the Bulls success as an organization. Pippen showed signs of being the kind of partner Jordan needed. Pippen could score, handle the ball, and was a tremendous defensive talent. He took a lot of the pressure off Jordan and helped him become a better player.
Phil Jackson was named the Head Coach of the Chicago Bulls in 1989. Pippen was able to flourish under Phil Jackson and his all-around game was able to reach new heights. Phil Jackson put emphasis on the team. He wanted everyone to be involved in the game. Pippen was an excellent facilitator and seemed more comfortable involving others rather than scoring on his own. Jordan's acceptance of Jackson's philosophy, and Pippen's role, helped the Bulls become 6 time champions.
Michael Jordan and Scottie Pippen might be the greatest one-two punch in NBA history.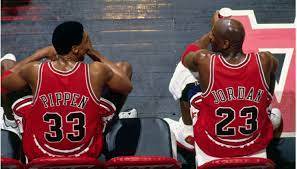 One of the Best
Scottie Pippen is a member of the Hall of Fame and was named one of the NBA's 50 Greatest Players. He is easily one of the top defensive players of all time. Scottie Pippen is often overlooked when the all-time greats are discussed, but Pippen is one of the best to ever play the game.
- Adam C. Better