In 1999 Scottie Pippen received his third signature sneaker from Nike. 1999 was a transition year for Pippen. The iconic player would join the Houston Rockets. His incredible career with the Chicago Bulls would end, and a brand new era for Pippen would begin.
The Three
The Nike Air Pippen 3 is not one of the more popular models from the Nike and "PIP" partnership. The 3 has a premium leather upper, a neoprene interior bootie, a phylon midsole, and full length herringbone traction. The Pippen line was dedicated to supporting an athlete like Pippen and his full court game. The 3 offered premium ankle support and Zoom Air Cushioning. The three might be overlooked largely because Pippen did not wear them for the Bulls.
The Dynamic Duo
Michael Jordan was the face of the NBA when Scottie Pippen joined him in Chicago in 1987. Jordan was a one man wrecking crew, but the talent around him was lacking. MJ did not trust his teammates, and it hurt the Bulls success as an organization. Pippen showed signs of being the kind of partner Jordan needed. Pippen could score, handle the ball, and was a tremendous defensive talent. He took a lot of the pressure off Jordan and helped him become a better player. Michael Jordan and Scottie Pippen might be the greatest one-two punch in NBA history.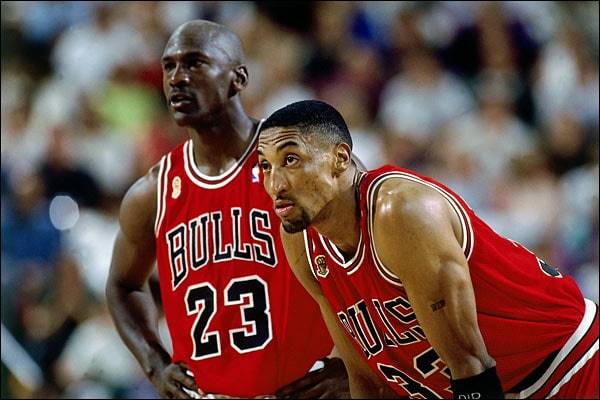 Enter The Zen Master
Phil Jackson was named the Head Coach of the Chicago Bulls in 1989. Phil Jackson put emphasis on the team. He wanted everyone to be involved in the game. Pippen was an excellent facilitator and seemed more comfortable involving others rather than scoring on his own. Jordan's acceptance of Jackson's philosophy, and Pippen's role, helped the Bulls become a legitimate contender.
The Foam Was For PIP
Eric Avar designed the groundbreaking basketball shoe, The Nike Air Foamposite, with Scottie Pippen in mind. Pippen, however, did not connect with the Foamposite and its futuristic look. The Foamposite was now without an endorser, which of course a shoe of this importance would definitely need. Penny Hardaway would then wear the Foamposite.
- Adam C. Better