Los Angeles is known for its glamour and entertainment. Magic Johnson fit in perfectly with the LA culture. The city loved Magic, and Magic loved entertaining the Los Angeles Lakers fans. For more than a decade Johnson was one of the biggest stars in Southern California. He led the Lakers to five championships. Earvin Johnson would earn three Finals MVP awards in his career. The "Showtime" era of the Lakers, which was defined by fastbreak, and exciting play, was led by Magic. His smile and flair on the basketball court was Showtime worthy. The Lakers won, and lost, in style. This was largely because of Earvin Magic Johnson.
Finals MVP #1
Magic's first Final's appearance, and victory, might be his greatest achievement. The Los Angeles Lakers defeated the Philadelphia 76ers 4 games to 2. This was Johnson's rookie season. The stage, his play and his youth made this Finals MVP award special.
Kareem Abdul-Jabbar was the league's MVP during the 1979-1980 season. Jabbar was LA's best player and one of the top names in the league. In Game 5 of the Finals, Jabbar sprained his ankle. The Lakers star would be out for Game 6.
Magic Johnson would be called upon to start in the place of Kareem at center. He would play all five positions against the 76ers in Game 6. The rookie scored 42 points, grabbed 15 rebounds, and dished out 7 assists. The performance helped Magic become a star and showed the world the kind of dynamic talent he was. He earned his first Finals MVP for the series at only 20 years old. Johnson was the first rookie to ever win Finals MVP.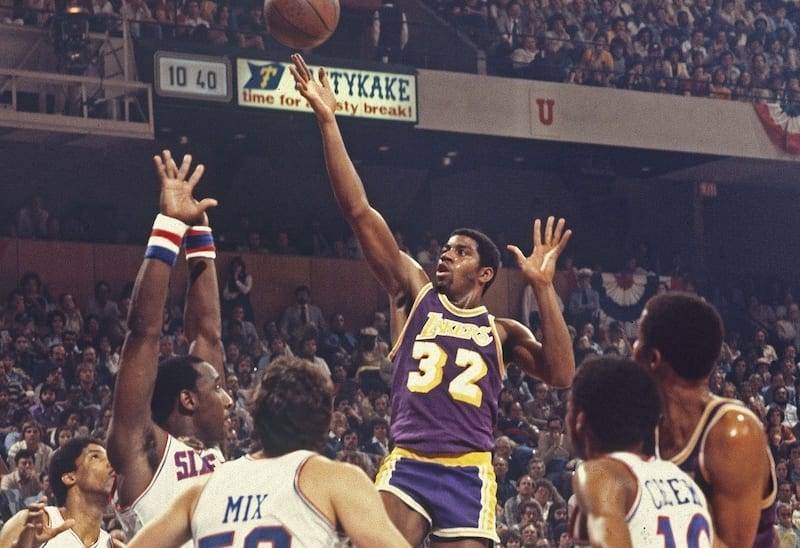 Finals MVP #2
For the Lakers second title, they once again would play the Philadelphia 76ers. This Finals appearance in 1982 is special because it was the first for Los Angeles with Pat Riley as coach. Riley would play a part in crafting the Lakers style of play, SHOWTIME! Riley built the offense around the skillset of Magic. Johnson took advantage of Riley's system and earned his second Finals MVP.
Finals MVP #3
The Celtics and Lakers were bitter rivals in the 1980s. They met in the Finals three times. 1987 was their final matchup. The Magic Johnson vs Larry Bird rivalry is the best of all time. Magic scored the most iconic shot of his career, a junior skyhook that eliminated the Celtics, and brought LA its fourth title of the Showtime era. Magic would also bring home his third and final Finals MVP award.
Finals Legend
Magic Johnson was the first player to ever win the Finals MVP award three times. Johnson also holds the record to this day for most total assists in Finals history. Magic is a legend and his work in the NBA Finals is a major reason why.
- Adam C. Better